Course
This course provides an overview of all the basic teachings in Mahayana Buddhism through an exploration of the "graduated path to enlightenment" or lam rim, a unique and powerful system for incorporating Buddhist philosophy into one's daily life.
Using a brief lam rim text, participants will examine the various topics of understanding and meditation that lead one, step by step, along the journey to the attainment of the result of perfectly complete enlightenment.

The great eleventh century Indian master Atisha has said,
The human lifespan is short, the objects of knowledge are many. Be like the swan, which can separate milk from water.

A human being has the potential to attain the highest happiness, the highest peace. Everybody would like to have such a state of being. Alternatively, everybody wishes to avoid misery and suffering. As spiritual practitioners we should wish freedom from misery not only for ourselves but for all sentient beings.

Via ZOOM
Consecutive translation into Portuguese

About Don Handrick
Don Handrick is a touring teacher for the Foundation for the Preservation of the Mahayana Tradition (FPMT), sharing the Dharma with centers and study groups in North America and other parts of the world, both in-person and online.
Don's study of Buddhism began in 1993 after reading The Tibetan Book of Living and Dying by Sogyal Rinpoche. Over the next two years he practiced with Sogyal Rinpoche's organization, until he began attending classes in 1996 with Venerable Robina Courtin.
Don left the Bay Area in 1998 to attend the FPMT's Masters Program of Buddhist Studies in Sutra and Tantra, a seven-year residential study program conducted at Lama Tzong Khapa Institute in Tuscany, Italy, taught by the scholar and kind Spiritual Friend, Geshe Jampa Gyatso. He successfully completed all five subjects of this program in 2004, receiving an FPMT final certificate with high honors. Don then moved to Santa Fe, serving as the Spiritual Program Coordinator for Thubten Norbu Ling, before being appointed as their resident teacher in 2006.
Don also was volunteered for the Liberation Prison Project, teaching Buddhism once a month at a prison in nearby Santa Rosa. Since 2012 he has been an active member of the Interfaith Leadership Alliance of Santa Fe.
In 2015, Don had the honor of being selected by Lama Zopa Rinpoche to lead the renowned November Course, a one month teaching and meditation retreat held annually at Kopan Monastery in Kathmandu, Nepal.
Don has received teachings from many esteemed lamas in the Tibetan Buddhist tradition including His Holiness the Dalai Lama, Lama Zopa Rinpoche, Ribur Rinpoche, Choden Rinpoche, and Khensur Jampa Tegchok.
He is also available for personal consultation on Buddhist practice upon request through the "Contact Don" page. https://www.donhandrick.com/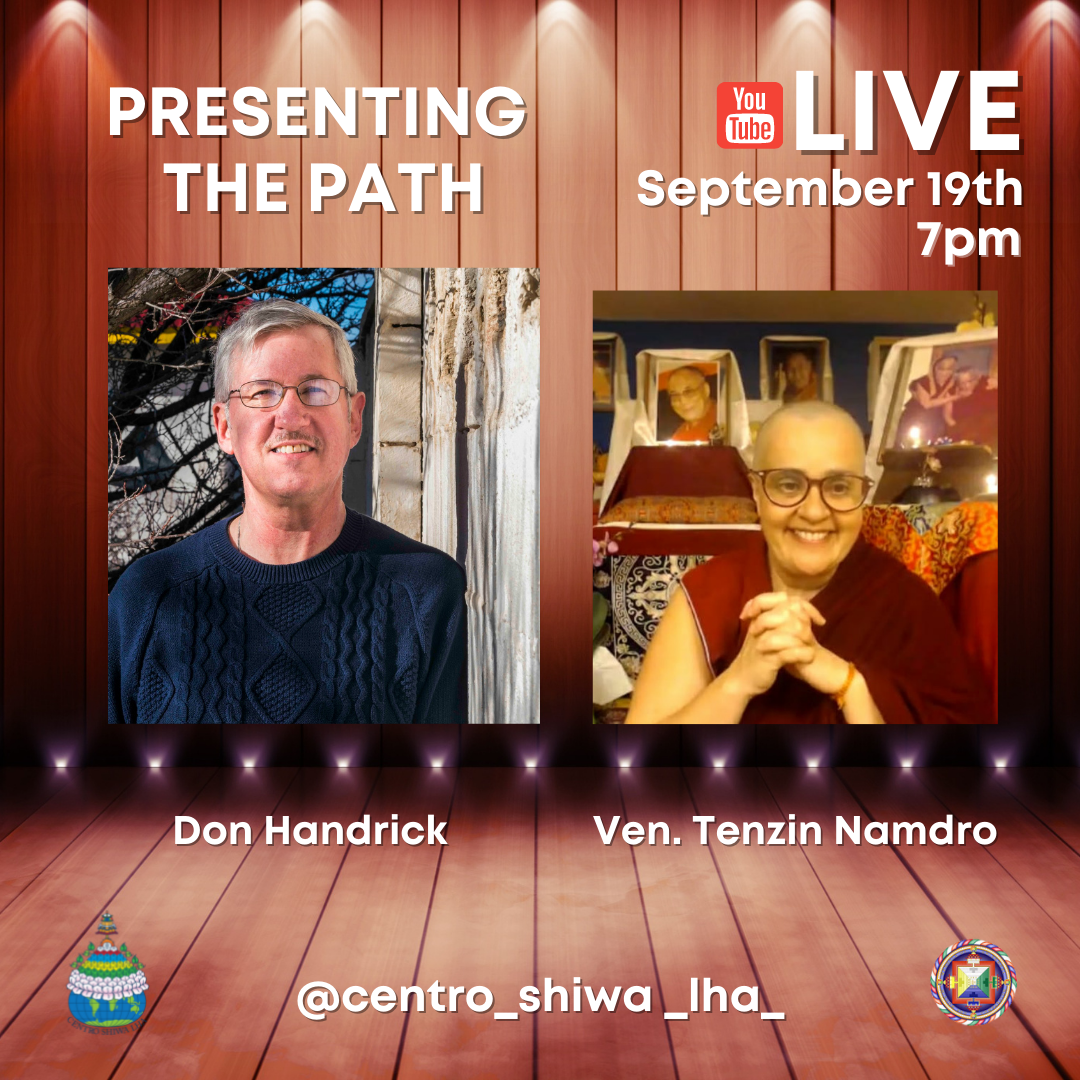 LIVE Youtube
Interview with Don Handrick
September 19th – 7pm

Ven Tenzin Namdrol will interview Don. Join us to know more about Budhism Philosophy and how it will be the weekend course.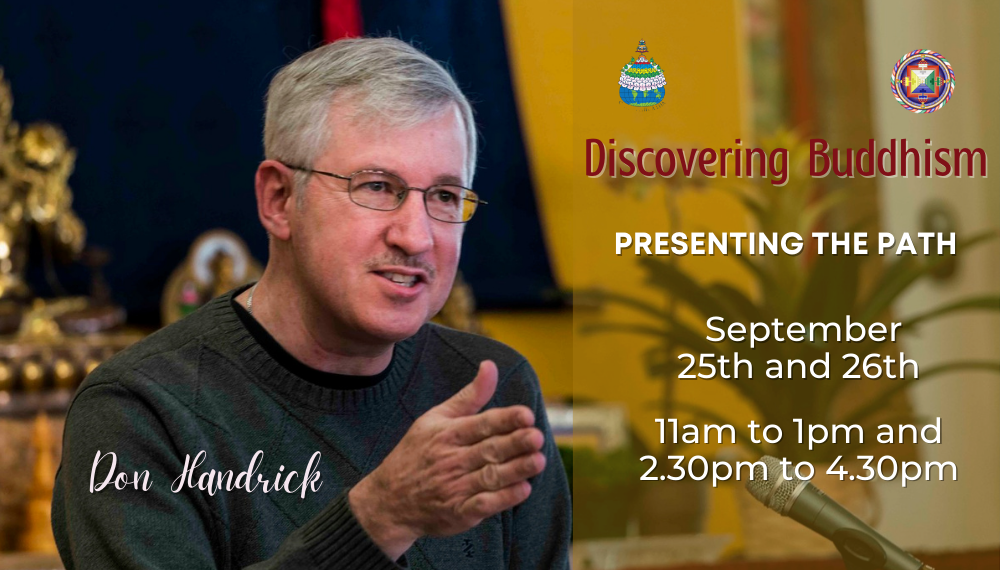 Program
The whole teachings will be in 2 days with 2 sessions a day in the mornin and afternoon:
September 25th and 26th (Saturday and Sunday)
11 am to 1pm and 2.30 pm to 4.30pm BRAZILIAN TIME (Shiwa Lha Host Center – Rio de Janeiro)

Please check your time zone at:
https://www.worldtimezone.com/index24.php

If you are not able to attend all of them, the teachings will be recorded and available for two months.
Of course to attend the teachings LIVE is much more powerful.
Donation
Your donation is a practice of generosity so that the Shiwa Lha Center continues with the turning of the Wheel of Dharma. Your contribution helps in offerings to Don Hendrick, interpreters, translations of material and maintenance and expenses of the Shiwa Lha Center.
We suggest a contribution of US$25 for the whole course.
Your donation is to be within your means, with any amount donated you will participate in the event.
If you want to give a subscription to another person or in case of any doubt, get in touch by cursos@shiwalha.org.br
Registration
Please complete the form below: