Introduction to Tantra
During his life, Buddha transmitted different teachings. Sutras, for example, are public words on how to develop kindness, love, peace and patience.
In addition to the Sutras, Buddha also passed on teachings that were kept in a more secret way: the Tantra, which teach how to transform and purify our subtle energy of body and mind. Tantric teachings are considered to be the fast path to enlightenment, as it instructs us to completely purify the energies of our body and mind, thus enabling us to overcome all forms of emotional and physical problems.
According to Lama Yeshe, the practice of tantra is so suitable for the modern West because it is "scientific." In other words, tantra, far from being a system of dogma to be accepted on faith or authority, is in fact a practical, step-by-step exploration of the human condition leading to selfdiscovery, and its results are verifiable through our own observations and experience. It is this emphasis on direct experience that should make tantra appealing to the great number of Westerners who have long been disillusioned with paths demanding belief and blind faith.
"However, if we are to derive real value from this path we have to be clear about certain important points. First of all, our motivation for practicing tantra must be as pure as possible. There is absolutely no way for us to reap the immeasurable benefits of tantra if our motivation is centered on our own welfare alone. The only type of person for whom tantra can work is someone who is primarily concerned with benefiting others and sees the tantric path as the quickest and most powerful way of accomplishing this altruistic aim.
Secondly, we must have the patience and self-discipline to engage in the practices in a well-ordered manner. To think, as many people do, "Since tantra is the highest path, it is not necessary for me to bother about the preliminary practices" and then jump into the most advanced teachings is both foolish and arrogant; it is also very dangerous. Anyone who has such an impatient and unrealistic attitude is completely unqualified to receive instruction in tantra.

Finally, it is very important to be able to differentiate clearly between the essence of tantra and the cultural forms in which it is currently wrapped. What I mean by this is that there is no benefit in a Westerner's pretending to look or act like a Tibetan, or any other Asian for that matter. Learning to say prayers in a foreign language, for instance, is not in itself the way to fulfill our highest human potential; there is nothing of transcending value to be gained from substituting one set of cultural conventions for another. People whose practice remains on this superficial level end up with nothing but confusion, not knowing who they are or what they should do. Of course, during this time of transition when the tantric teachings are moving from the East to the West, there is a lot to be gained from the study of the Tibetan language and so forth. But my point is that we should always bear in mind that tantra is something far deeper than language or custom.
What tantra has to teach us is a way of breaking free from all the conditioning that limits our understanding of who we are and what we can become. If we approach these powerful teachings with clear-sighted intelligence and a strong determination to extract their essence, we can definitely bring to our life the wholeness and inner satisfaction that we all seek" Lama Yeshe
---
Step 1/2: Registration
Please complete the form below:
Step 2/2: Donate
It is with joy that we received your registration for the event "Introduction to Tantra with Ven. Amy Miller". To confirm your participation, please make the donation by clicking on the PayPal button.
---
More information: cursos@shiwalha.org.br or (+55 21) 97174-2707
Venerable Amy Miller
Amy J. Miller (Ven. Lobsang Chodren) first encountered Tibetan Buddhism in the spring of 1987 during a course at Kopan Monastery in Nepal. Since then, she has spent a great deal of time engaged in meditation retreats, study, teaching, and Buddhist center management throughout the world. Prior to meeting the Dharma, Amy was a political fundraiser in Washington, DC and also worked for Mother Jones Magazine in San Francisco, California.
Amy also trained as an emotional support hospice counselor during the peak of the AIDS epidemic in San Francisco and offers courses and retreats on death and dying and end-of- life care.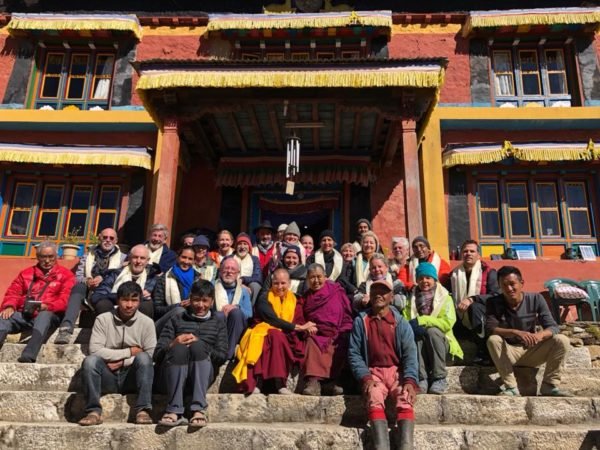 Amy has also had the good fortune to visit Tibet in 1987 and again in 2001 as a pilgrimage leader for the Institute of Noetic Science in the United States. She has also led pilgrimages to India (including Darjeeling and Sikkim), Nepal, and Bhutan for the Liberation Prison Project and Milarepa Center. The next pilgrimage Amy is leading is a trek from May 10 – 28 2020 to Lawudo Retreat Center in the Mount Everest region of Nepal. A 3-day retreat will be included along with a visit to Lama Zopa Rinpoche's birthplace. More information coming up soon.
Amy was ordained as a Buddhist nun in June 2000 by the great Tibetan master, Ven. Choden Rinpoche, and has been teaching extensively since 1992. Her teaching style emphasizes a practical approach to integrating Buddhist philosophy into everyday life. She is also often involved in leading a variety of retreats.
Amy is the co-author of Buddhism in a Nutshell – and a contributor to Living in the Path, a series of online courses produced by FPMT.
Based in the United States, in Philadelphia, Pennsylvania, Amy teaches and leads retreats and pilgrimages around the world. Her teaching schedule and other information can be found at www.AmyMiller.com.