Course
Topics
Life of Shakyamuni Buddha
First teaching on "the four noble truths"
— the truths of suffering
— the cause of suffering
— the cessation of suffering
— the path to the cessation of suffering.
This teaching is common to all Buddhist traditions and forms the cornerstone for all the other teachings given by the Buddha.

It also provides an overview of Tibetan Buddhism based on the three principal aspects of the path to enlightenment—renunciation, bodhichitta, and the right view of emptiness—as taught in the stages of the path (lamrim) teachings and based here on the short text Foundation of All Good Qualities by Lama Tsongkhapa.
Program
May 11, 18, 25, and June 1, 8, 15
6 sessions
Tuesdays
7.30pm to 9pm (Brazil time)
Consecutive translation into Portuguese
Recordings will be available until August 31st 2021.
Donation
Your donation is a practice of generosity and helps Shiwa Lha Center to continue offering Dharma widely. We suggest a contribution of US$ 20.
Please note that you will be very welcome even if you can not afford please contact us at cursos@shiwalha.org.br.
Registration
Please complete the form below: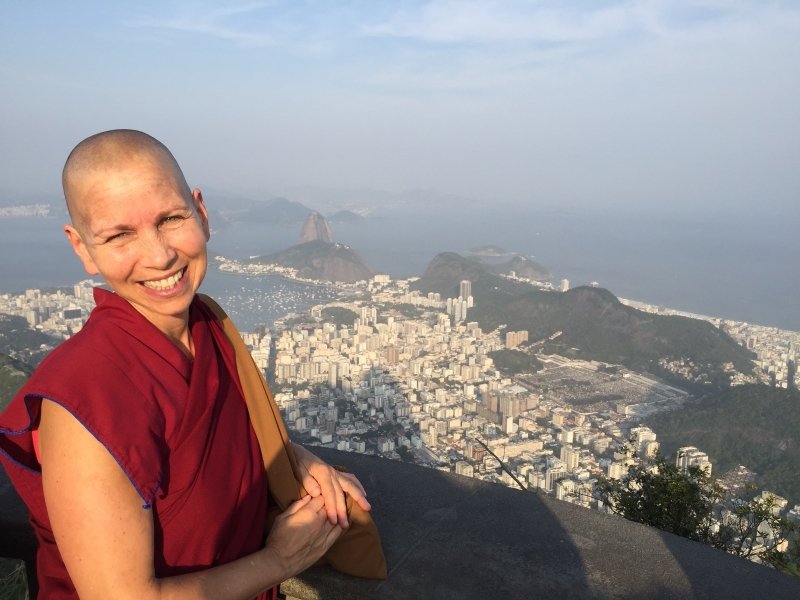 Venerable Amy Miller
Amy J. Miller (Ven. Lobsang Chodren) first encountered Tibetan Buddhism in the spring of 1987 during a course at Kopan Monastery in Nepal. Since then, she has spent a great deal of time engaged in meditation retreats, study, teaching, and Buddhist center management throughout the world. Prior to meeting the Dharma, Amy was a political fundraiser in Washington, DC and also worked for Mother Jones Magazine in San Francisco, California.
Amy also trained as an emotional support hospice counselor during the peak of the AIDS epidemic in San Francisco and offers courses and retreats on death and dying and end-of- life care.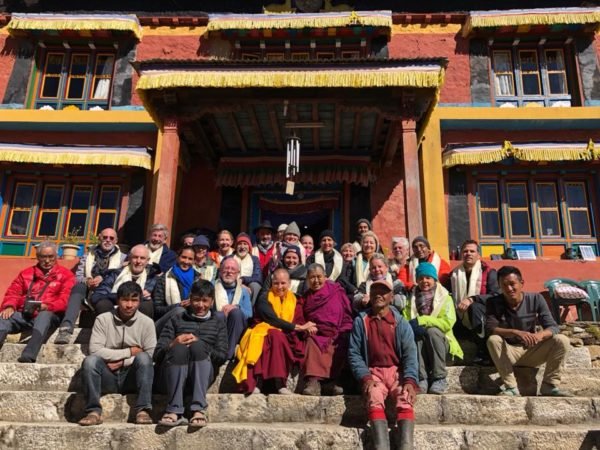 Amy has also had the good fortune to visit Tibet in 1987 and again in 2001 as a pilgrimage leader for the Institute of Noetic Science in the United States. She has also led pilgrimages to India (including Darjeeling and Sikkim), Nepal, and Bhutan for the Liberation Prison Project and Milarepa Center. The next pilgrimage Amy is leading is a trek from May 10 – 28 2020 to Lawudo Retreat Center in the Mount Everest region of Nepal. A 3-day retreat will be included along with a visit to Lama Zopa Rinpoche's birthplace. More information coming up soon.
Amy was ordained as a Buddhist nun in June 2000 by the great Tibetan master, Ven. Choden Rinpoche, and has been teaching extensively since 1992. Her teaching style emphasizes a practical approach to integrating Buddhist philosophy into everyday life. She is also often involved in leading a variety of retreats.
Amy is the co-author of Buddhism in a Nutshell – and a contributor to Living in the Path, a series of online courses produced by FPMT.
Based in the United States, in Philadelphia, Amy teaches and leads retreats and pilgrimages around the world. Her teaching schedule and other information can be found at www.AmyMiller.com.
Venerable Amy Miller's teachings at Shiwa Lha Center on our YouTube channel.